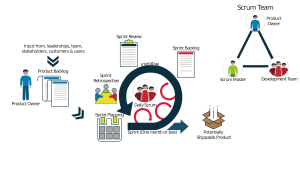 At HPT Agile, we work day in, day out with other Scrum Masters. While many were successful in passing exams like the PSM1, we found a lot of really good Scrum Masters who were not passing their exams, mostly due to the in-depth nature of the exam (and rightly so!!).
Sitting around the water cooler one day, one of the team thought it would be a good idea to introduce this as our first online course. So this is it, a refresher course focused on the Scrum Guide and passing it first time.
We hope you like it.
Scrum Framework